---
Citizens Clean Elections Launches Statewide Address-based Voter Information Tool
Voters' home address instantly pairs to designated district details, candidates and voting locations
June 13, 2018
The Citizens Clean Elections Commission (CCEC) aims to make elections-related information as easy as possible to find with the launch of the CCEC Voter Dashboard. The Clean Elections Voter Dashboard, an app on the Commission's website is the most comprehensive and user-friendly resource delivering tailored information directly to voters.
The Voter Dashboard can be quickly accessed on a laptop, tablet, or mobile phone via its responsive design which reconfigures to the screen size of any device. Voters need only type in their home address to immediately receive customized elections details specific to their geographic location.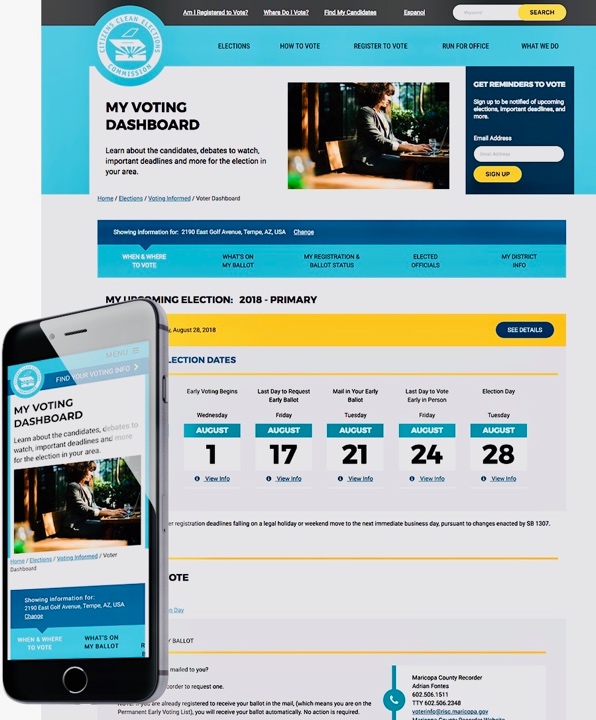 "Technology has raised the bar for what people expect from all services including participation in elections. We hear from both longtime voters and non-registered eligible voters that there isn't one place for them to easily find all of the information they need," said Citizens Clean Elections Commission, Voter Education Director, Gina Roberts. "Our Voter Dashboard is the first of its kind because it pairs a voters' home address with the most pertinent elections information into one individualized, easy-to-use dashboard. Voters can quickly find their state, county and federal district designations, the current candidates on the ballot, key dates in the process, and where they can cast their ballot."
"Our Voter Dashboard benefits every voter in Arizona", said Citizens Clean Elections Commission Chairman Damien R. Meyer. "Before the Commission created the Voter Dashboard, voters had to visit several websites in different formats to get the information they needed to vote. The Voter Dashboard simplifies and streamlines what used to be a complicated task. We anticipate this tool will be especially useful for new voters. "Quite simply, the Voter Dashboard makes it easier for voters to participate in our state's electoral process."
The Clean Elections Voter Dashboard was programmed by the CCEC team of election and IT experts, after consultation with voters, county recorders and elections officials across the state. Pertinent data is funneled into one centralized system and sorted geographically. This enables voters to easily enter their home address to uncover their specific elections information in seconds.
The Voter Dashboard is the latest addition to the CCEC voter tool box, including the Clean Elections Chatbot accessible via Facebook Messenger, a comprehensive Voter Education Guide, a mobile app placing real-time information related to debates, candidates, and voting locations into the palm of the hand, and the forthcoming Candidate Compass, which houses specifics on those running for office. The CCEC social media channels are also a continuous flow of relevant voter information.