---
Acapella Group Inspired by CCEC AR 'Take Flight' Mural, Creates an Ode to Voting
Clean Elections '18 in 2018' project continues to engage the next generation of voters
PHOENIX- (Oct. 4, 2018) –Arizona School of the Arts (ASA) high school students drew inspiration from the Citizens Clean Elections Commission (CCEC) '18 in 2018' Take Flight AR mural to create an original 'sound track' for participating in the upcoming Arizona elections. The lively a cappella piece is written, performed and directed by high school seniors and is titled Let Your Voice Be Heard. The singers, known as The Mixtones, encourage participation with their original lyrics and remind the listener to 'spread their wings with their vote'. The piece debuted in video on the CCEC website and social media channels this week.
"The idea behind the Take Flight AR mural is to connect with voters our age," said 18 year-old ASA senior and director of Let Your Voice Be Heard, Derek Rinsema. "We had the chance to put our own spin on it and on why voting is important. We brainstormed ideas and making it come alive only using the human voice made the most sense."
"I was really moved by the lyrics of Let Your Voice Be Heard and by the performance," said Citizens Clean Elections Commission, Voter Education Director, Gina Roberts. "It summarizes the idea that participation in the electoral process is really important with an emphasis on young people who are 'spreading their wings' into adulthood and civic participation."
The CCEC '18 in 2018' voter education project seizes the year to draw attention to the legal voting age. Its centerpiece original mural art embodies the idea of activating your political power and taking flight with your vote. The installation, 10' x 10' multi-colored wings comes to life with augmented reality (AR) by using the Shazam app and a QR code. There is permanent installation in Phoenix and Tucson, as well as Mesa and Scottsdale Community Colleges. It sets the scene for amazing selfies and like voting, is participatory. Users are guided to the CCEC website to start their voter registration process. Follow the project on Instagram at @18_in_2018.
The Mixtones will join CCEC at a voter registration event 7 p.m. – 9 p.m., First Friday, Oct. 5, at monOrchid Gallery, 214 E Roosevelt St., Phoenix, AZ 85004. They will perform their arrangement live at the event. The Mixtones members are JP Rabusa, Thomas Garcia, Sam Yuh, Leon Kobayashi, and Sarah Pansing. The lyrics to Let Your Voice Be Heard inspired by Phoenix's only AR mural Take Flight, are:
When the world is full of choices for the people to discern
When we put our minds together, there is one thing we can learn
Our nation is a team where no opinions should be blurred
Let Your Voice Be Heard

Keep your mind strong and impatient
We ain't got no time for waiting
Be free to spread your wings
Speak out
Let Your Voice Be Heard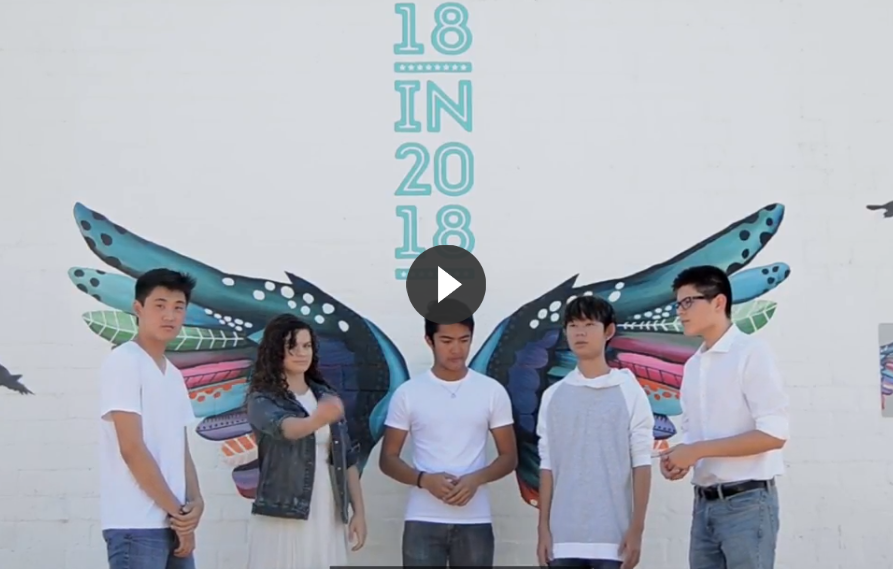 View the 18 in 2018 Page